Polyester elastomer (TPEE)
Elastomer series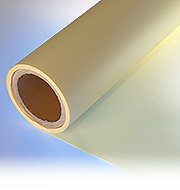 A new and unique type of sheet/film developed by Sheedom using thermoplastic elastomer composed mostly of polyester series block copolymer as its base material.
This sheet has elasticity not performed by plastic, and physical and chemical property not performed by rubber. It is high quality and advanced processing as well.
Characteristics

Excellent oil, chemical, heat, weather, and impact resistance.
And low-temperature property.
Remains elasticity and flexibility between -50℃ and +150℃.

Major application
Packing / belts / interlining / medical equipment.
type
Part number
hardness
Polyester elastmer
DHS 4047
40D
DHS 6347
63D
* We can provide consultation for slit. The minimum width is 30mm.