Polyurethane elastomer (TPU)
Elastomer series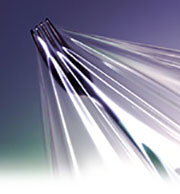 A new and unique type of sheet/film developed by Sheedom using special polyurethane as its base material.
Applicable to an almost infinite variety of uses with superb abration resistance and outstanding elasticity (tensile strength, tensile extensibility).
Characteristics

Superb abration resistance ((three to five times compared to the abration resistance of natural/synthetic rubber).
tremendous elasticity
Excellent low-temperature characteristics, mechanical property, and flex resistance, weather resistance, ozone resistance, and aging resistance.
Remains elasticity and flexibility between -40 ℃ and +150 ℃.

Major application
[Office automation] Protective covers for office equipment / keyboard shields
[Apparel] Parts of various clothing / liners for down-insulated clothing.
[Sports equipment] emblem on sportswear and T-shirts / protective tape for sports equipment / soles for shoes / wet suits.
[Belts] Laminated material for belts
[Medical] Bedsore-prevention / film dressing / adhesive bandages.
[Others] laminated material for furniture / carpet liners / industrial packing / hot melt material.
type
Part number
hardness
Surface condition
recital
polyester series
DUS 202
90A
CDR
polyester series,
yellowingless
DUS 605
96A
CDR
DUS 605
96A
CER
polyester series,
yellowingless
DUS 601
90A
CDS
polyester series
DUS 501
90A
CD
polyether series
DUS 217
90A
CD
Product made to order

For the standard stock product, please refer to here.

For the product made to order, please contact us individually.
Example of product made to order: polyurethane elastomer hardness 65A to 96A, etc.

The lineup shown above is an example.
For grade and specifications (change of separator, etc.), please contact us individually.

* Producible size
| | |
| --- | --- |
| Thickness of product | 0.01mm〜5.0mm |
| Width of product | 500mm〜2000mm |
* We can provide consultation for slit. The minimum width is 30mm.